Santiago Sol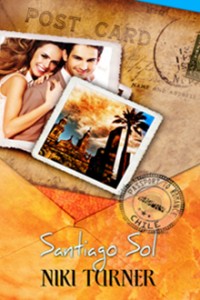 A treasured heirloom with a tangled history brings Tansy Chastain and Sebastian Sandoval together, but the secrets they keep to themselves threaten to tear them apart.
When her elderly friend and mentor asks for a favor, Tansy can't refuse. But returning her friend's heirloom to its rightful owners will challenge her faith, sweeping her halfway around the world to Santiago, Chile, and into a twisted family history of romance, intrigue, and danger. Frustrated by his grandfather's mounting pressure to locate a lost family treasure, Sebastian Sandoval decides serving as a tour guide for the lovely American he met on the plane is just the distraction he needs. But the secrets they're keeping threaten their blossoming romance.
PURCHASE LINKS:
ISBN:
Page Count:
Release date: October 9, 2015


Niki Turner is a novelist, journalist, and blogger. Her first completed manuscript earned second place in the Touched By Love 2009 contemporary category romance contest. She has written for local newspapers, and won second place for best agriculture story at the 2013 Colorado Press Association annual convention. Currently, she is the production manager for the Rio Blanco Herald Times. She also blogs at In Truer Ink and is a co-blogger at Inkwell Inspirations. Niki is the Colorado Area Coordinator for ACFW and is involved in establishing an ACFW chapter on Colorado's Western Slope, where she resides.