Review for the Moose Creek Trilogy:
Delightful Series!
What a delightful read! The whole series is fun, with Matilda the moose occasionally stealing the show. Samantha and Eric are good people you would love to meet, with the added bonus that Samantha is the pastor! The growing respect, affection and love is evident between them as they grapple with situations they find themselves in. Sit down and treat yourself to a great read, with giggles and sniffles along the way.
Moosed the Boat
Kindle Edition: Click here to buy
In Moose Creek Maine, sixty-something spinster, Clare Evans has lived a rich, full life—mostly—despite never having married. Rugged widower, ranger Travis Gibbs, is ready to rejoin the living. Will two senior citizens moose the boat or take a chance at true love?
Click here to read the 1st Chapter
Moostletoe
~ He could wrestle a galloping moose to the ground, but could he capture her fleeing heart?
Fresh out of divinity school, Rev. Samantha Evans is ready to conquer the world for Christ. She lands in Moose Creek, Maine, a tiny backwater town with more moose per square mile than men. Even worse, one of her new parishioners chews up new ministers for breakfast and he's just as determined to send her packing.
Forest ranger, Eric Palmer, is done with women. Determined to live simply with no encumbrances, he's moved to Northern Maine to study the moose population. With Christmas right around the corner, he runs into his buddy Sammie, the girl who'd been his best friend when they were teenagers. Unlike most of the women in his life, he trusts her implicitly. But could she ever be more than a friend?
When Samantha's career is on the line, can Eric save her job and rescue his own shattered heart in the process? And how does Matilda the town moose factor in?
Available Now – Click here to buy this award winning novella now

Click here to read the 1st Chapter
Moosed Opportunities
Rev. Samantha Evans loves Moose Creek, Maine, the land of moose and men, particularly her fiancé Eric Palmer. Forest ranger, Eric, strives to plan their wedding, but Samantha's busy schedule, his interfering ex-wife, missing college students, and a pregnant moose, all conspire against him. Will their lives continue to be a series of Moosed Opportunities?
Available Now – Click here to buy now

Click here to read the 1st Chapter
Almoosed Heaven
It's Christmastime in Moose Creek, Maine, and Rev. Samantha Evans and forest ranger Eric Palmer are finally getting hitched. When circumstances turn against them in the shape of a meddlesome sister, an ill family member, an old flame, and a contrary moose, will they discover that marriage is Almoosed Heaven?
Click here to read the 1st Chapter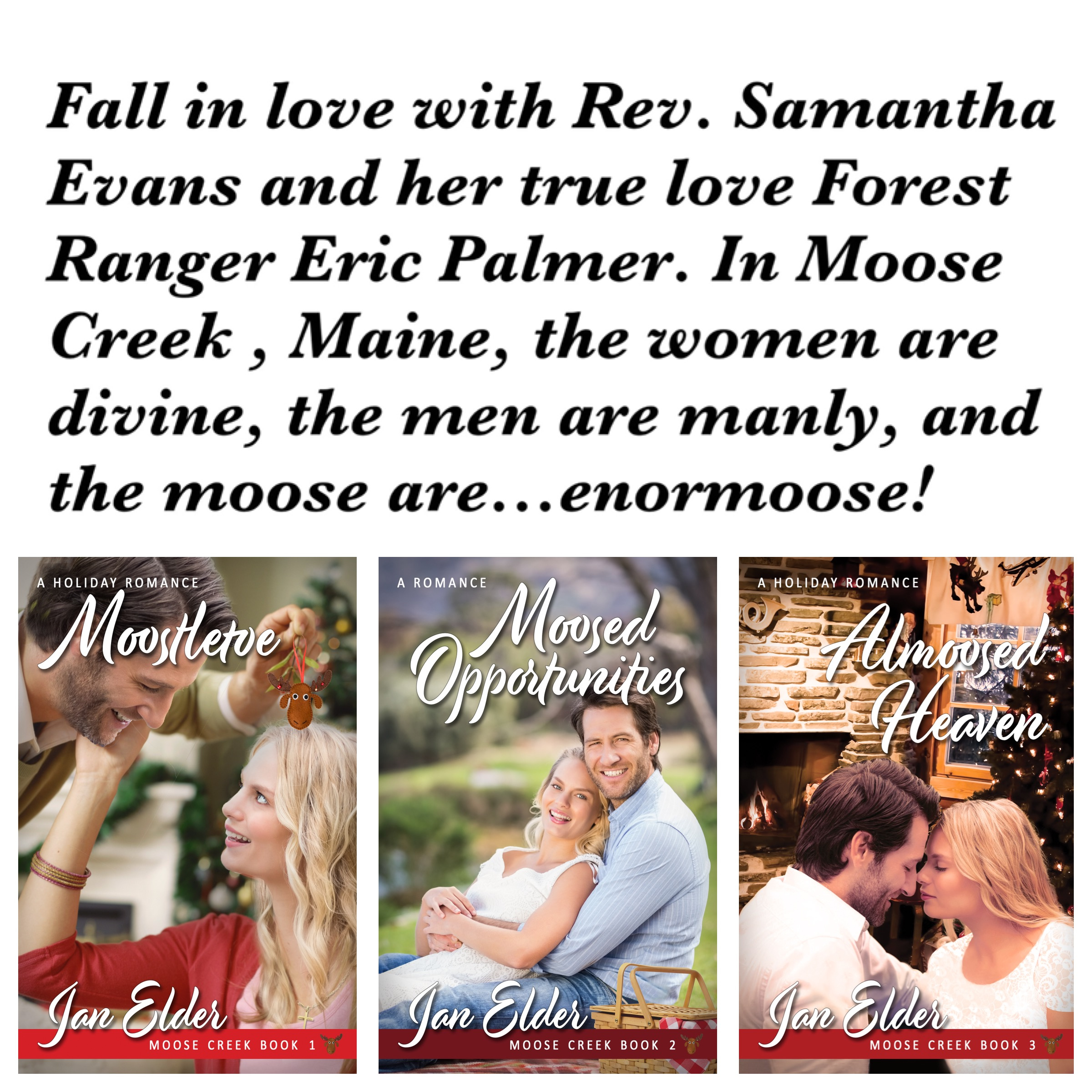 Love, Lies & Fireflies
A wounded heart, a broken spirit, and two second chances.
Didi O'Brien is engaged—at least she was an hour ago. Now she's not so sure. Her fiancé, the suave Kevin Cabot, has just revealed that he's been unfaithful, and he's not the least bit sorry. Reeling from the betrayal, with her plans for a happily-ever-after life in doubt, she prays for direction.
Middle school teacher, Jake Montgomery, is struggling with some issues of his own. Sadly, a year previously his fiancée had been killed in a car crash. Battling anger and despair, in a mountain-top experience, Jake wrestles with the Almighty, and is ready to live again.
Through a crisis of faith, and glimpses of mercy, Didi and Jake find each other. But can they find the strength to resolve the many obstacles that conspire to keep them apart?
Buy the Paperback Now
Buy the Kindle Version Now
or