Oslo Overtures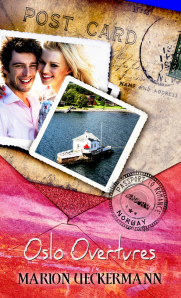 Is she the one who'll clip his wings? Can he be the wind beneath hers?
"If women were meant to fly, the skies would be pink."
Those were the first words Anjelica Joergensen heard from renowned wingsuiter, Kyle Sheppard, when they joined an international team in Oslo to break the formation flying Guinness World Record. This wouldn't be the last blunder Kyle would make around the beautiful Norwegian.
The more Anjelica tries to avoid Kyle, the more the universe pushes them together. Despite their awkward start, she finds herself reluctantly attracted to the handsome New Zealander. But beneath his saintly exterior, is Kyle just another daredevil looking for the next big thrill?
Falling for another wingsuiter would only be another love doomed.
When a childhood sweetheart comes between them, Kyle makes a foolish agreement which jeopardizes the event and endangers his life, forcing Angelica to make a hard choice.
Is she the one who'll clip his wings?
Can he be the wind beneath hers?
PURCHASE LINKS:
ISBN:
Page Count:
Release date: TBA

Marion Ueckermann's passion for writing was sparked in 2001 when she moved to Ireland with her husband and two sons. Since then she has published devotional articles and stories in Winners, The One Year Devotional of Joy and Laughter (Tyndale House Publishers), and Chicken Soup for the Soul: Miraculous Messages from Heaven, and her debut novelette, Helsinki Sunrise (White Rose Publishing, a Pelican Book Group imprint, Passport to Romance series).
Marion blogs for International Christian Fiction Writers and Beauty for Ashes. She belongs to Christian Writers of South Africa and American Christian Fiction Writers. She lives in Pretoria East, South Africa in an empty nest with her husband and their crazy black Scottie, Wally.