Manila Marriage App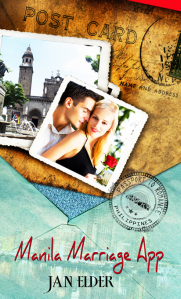 She wanted to teach him humility—instead, he taught her about love and faith.
It all began as a lark. Shay Callahan's life was just fine, thank you, but when the seemingly misogynistic missionary, Timothy Flynn, places an advertisement for a wife in a Christian magazine, she decides to give it a whirl and sends in the five-page application. Why not? After all, she's not currently seeing anyone, and this man truly needs to be taught a lesson.
Finding out she's Dr. Flynn's pick of the litter, Shay hops on a plane and flies to The Philippines. The strategy is to jet in, enjoy an exciting two-week vacation, and jet out again, all at his expense. Instead, her plan backfires. The handsome missionary man is not what he seems, and the foreign land has far more to offer than she could imagine.
Embark on a tropical adventure with Shay that challenges everything she believes.
EXCERPT:
Taking a deep, cleansing breath, I strolled into the room. Behind a massive teak desk sat the man I'd come to meet. The photo he'd emailed me didn't do him justice. Not by a long shot. If I'd been the obvious sort, my jaw would have dropped to the floor. And drool. There'd be plenty of drool.
He stood as I entered the room, cool gray eyes raking over me. His bio had told me he was a tall man, but the head shot hadn't captured the aura of authority he projected. Mister-too-important-to-pick-me-up didn't say a word, although that intense stare roamed my face with apparent disbelief. Perhaps he was confused as to my shabby state, but he didn't have to be rude.
We glared at each other. In fact, he examined me as if he were judging a heifer at the county fair. If he were testing my mettle, I was not going to be the first one to blink. With a heavy sigh, he shook his head, loosened his lips, and said the words I least expected. "Miss Callahan, you're blonde."
Words spilled out of my own mouth before I could filter them. "Whoa, nothing gets past you does it, Dr. Flynn?"
"In the picture you sent me, you were a brunette."
Well, he had me there. Before last Tuesday, I had been a brunette. Light brown, but still brown. I straightened my spine. "Hey, I didn't go platinum or anything. The appealing color you see before you is called Golden Latte. Two measly shades lighter." Huffing, I pushed my long mane behind my ears hoping no remaining traces of peas were visible. "And what am I doing justifying my personal color preferences to you? It's my hair."
He kept staring at me. "Putting that issue aside, you're also not…how shall I put this? You're…you're not what I expected. You're way too…"
"I'm way too what?" My chin rose, as did my ire.
"Oh, never mind," he mumbled. His head hung down and, I swear, his feet shuffled. That was unexpected. Was he arrogant or bashful?
Either way, still standing in the doorway, I'd had enough of this strange exchange. Since he didn't seem to know how to greet me like a decent human being, I'd give him a demonstration. "Okay, let's try this again. Dr. Flynn, I presume? I'm Shay Callahan. You know, the woman you ordered with a 'keen mind, and a rational outlook on life'?"
PURCHASE LINKS:
ISBN: 978-1-61116-441-1  
Page Count: 131
Release date: April 17, 2015

Jan Elder is a Christian romance writer with a zeal for telling stories other women can relate to. She strives to write the kind of book that will strengthen the reader's faith, while also providing an entertaining and engrossing love story.
Happily married for eleven years to loving (and supportive) husband, Steve, the two live in central Maryland along with Jamie (a tuxedo cat), and Shu-Shu (a tortoiseshell cat). A born cat-lover, all future books will, no doubt, feature a feline in some way or another.