Helsinki Sunrise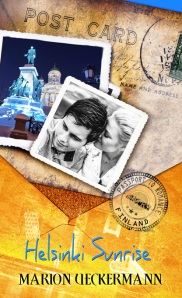 He needed the island to himself. So did she.
Three weeks alone at a friend's summer cottage on a Finnish lake to fast and pray. That was Adam Carter's plan. But sometimes plans go awry.
On an impromptu trip to her family's secluded summer cottage, the last thing Eveliina Mikkola expected to find was a missionary from the other side of the world—in her sauna.
Determined to stay, Eveliina will do whatever it takes—from shortcrust pastry to shorts—to send the man of God packing. This island's too small for them both.
Adam Carter, however, is not about to leave.
Will he be able to resist her temptations?
Can she withstand his prayers?
EXCERPT:
"I need to get away for a while." Eveliina held her breath. If Joel said no, she'd go anyway. She'd resign. She'd break up with him. Whatever it took to bring a little peace and quiet to her harried life.
"But you just got back from Vaasa." Joel crossed his arms and leaned back in his leather chair.
"Exactly why I need to get away."
His eyes swept over her, and Eveliina hoped she didn't look as frazzled as she felt.
"You work too hard, Eveliina, and I'm sorry. It's just the nature of our business. Creating fantasy for the world is not for the fainthearted." He rose from behind his smoked-glass desk, placed his hands on the edge of the table and leaned forward. "That's why people like us aren't married. We're wed to our computers, and it's hard to divorce ourselves from the beasts." Joel straightened up. "But maybe soon we'll change that. I know you'll be as dedicated and talented a wife as you are—"
"I doubt I could love doing anything other than visual effects." One sure thing got Eveliina uncomfortable—talk of marriage. And these days, Joel didn't miss an opportunity. Eveliina stared him in the eye. "You're right. I am married to my job. And I don't believe in divorce."
She pointed to the framed 3D characters that lined the walls of Joel's ultra-modern high-rise Helsinki office like family portraits. "You see those funny little creatures?—they're the only ones I'm happy to create."
Joel scratched his chin. "So, how was Ostrobothnia and the tall ships exhibition?"
"Bombarded by noisy children and people dressed as Vikings…?"
He pulled a face. "That bad?"
"You try seven days surrounded by," she shuddered, "little people. If that wasn't bad enough, those Viking lookalikes are a crude bunch with a weakness for blondes."
His shoulders shook as he chuckled. "Did you at least get some good material to work from?"
"Yes, but this has all been too much, especially when our last project has barely finished rendering."
"Eveliina…" He stretched out her name. "You know how vitally important research is, and that we can't choose the timing for new business."
She sighed as she looked down and kicked the floor with the toe of her shoe. "I know." She raised her gaze in time to glimpse Joel's clenched jaw before his troubled look faded. He slid his hands into his trouser pockets and slowly walked toward her.
"I didn't realize you disliked children that much."
She didn't dislike them—they just made her nervous. And when she got nervous, her stress level rose. Then the relentless pounding in her head would begin. Instinctively, she rubbed her left temple and shrugged.
"OK. I can see I'm not going to talk you out of this, and you're right, you have been working too hard. Tomorrow's Friday—you can leave after you've briefed the team and done a handover. I'll give you two weeks to catch your breath. Then I need you back in this office." Joel slid his hand around her waist. "And in my arms."
She stiffened at his touch. This was how he always tried to talk her out of things. Not this time. Like a breeze, Eveliina slipped from his grasp. She picked up the small desk calendar from his table and a red pen. With an artistic swirl of her hand, she drew a fancy shape around August 27th and tapped the calendar with her finger. "I'll be back this Monday morning—ready, willing, and able."
Joel's fingers brushed her cheek before tucking her hair behind her ear.
Eveliina hated it when he did that. Not only was it uncomfortable, but she loathed exposing her ears. She found them too small, and they didn't sit as close to her head as she would have liked.
"Where are you going?" His question was filled with the usual possessiveness that accompanied anything to do with her. His eyes narrowed, his tone was controlling. He'd tried to hide it, but failed.
"If I tell you, you have to promise not to follow me. I need time alone."
He smiled.
"I'm serious."
Joel's breath was warm on her skin as he whispered in her ear. "And if I don't keep my word?"
Eveliina put the calendar down. "Then I'll break up with you, and I'll resign from Savant Studios." Her answer dared him to challenge her.
She pushed past Joel and strode away. At the doorway, she paused and turned. "I don't think you want me to do either."
Joel shook his head.
Eveliina smiled as she leaned against the doorjamb. That got his attention. "Good. Then I'll tell you. I'll be at my grandparents' summer cottage."
"Lapland?" Disappointment shadowed his question.
Against her better judgment, she clarified. "No. The one on the outskirts of the city."
"You're staying in Helsinki?" A smile grew on his face. "You'll be that close?"
Eveliina nodded. "I need to be on my own for a while, and I don't want to drive far to get that. Besides, I love that wooden cabin."
Joel shifted on his feet. "Was it that stressful in Vaasa?"
"You have no idea."
PURCHASE LINKS:
Pelican Book Group | Amazon | Christianbook.com | Barnes & Noble
ISBN: 978-1-61116-380-3
Page Count: 147
Release date: 22 August 2014

Marion Ueckermann's passion for writing was sparked in 2001 when she moved to Ireland with her husband and two sons. Since then she has published devotional articles and stories in Winners, The One Year Devotional of Joy and Laughter (Tyndale House Publishers), and Chicken Soup for the Soul: Miraculous Messages from Heaven, and her debut novelette, Helsinki Sunrise (White Rose Publishing, a Pelican Book Group imprint, Passport to Romance series).
Marion blogs for International Christian Fiction Writers and Beauty for Ashes. She belongs to Christian Writers of South Africa and American Christian Fiction Writers. She lives in Pretoria East, South Africa in an empty nest with her husband and their crazy black Scottie, Wally.