Echoes of Edinburgh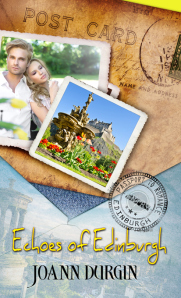 To honor her dying father's wish, Chicago stockbroker Shelby Harmon promises to hand deliver an envelope addressed to "Robert Nichols, Personal & Confidential." Her quest to find Robert leads her to a most unlikely place—the Castlehill Gardens outside Scotland's Edinburgh Castle. Who is this fiercely private man and what is his connection to Harmony Lane, her family's horse farm in Lexington, Kentucky? Harrison Reed cautions Shelby against dredging up hurtful memories for his close friend, Robert. As they explore the city together, Shelby and Harrison find themselves increasingly drawn to one another. When the contents of the mysterious envelope are revealed, the answer gives her hope for the future of Harmony Lane. Is the time spent in Edinburgh with Harrison destined to be nothing more than a beautiful memory? Did Shelby lose her heart in Edinburgh…or find her way home again?
EXCERPT:
"This one's for you, Daddy."
Six months ago, who could have guessed Shelby Harmon would be standing outside a castle? Not your average, run-of-the-mill castle, either, but Edinburgh Castle. Scotland's national treasure. Breathing in the heady scent of blooming roses and soil dampened by the late morning rain, Shelby's pulse strummed faster as she followed the winding walkway. Was she crazy to travel nearly four thousand miles to deliver an envelope containing who-knows-what to a man she'd never met? Perhaps, but a promise was a promise, especially to her dying father.
The tour guide said she'd find the man she sought somewhere on the grounds, most likely in the Castlehill Gardens. After rounding a bend behind a row of hedges, she stopped short. Hunched between multi-colored rose bushes, a middle-aged gardener was engaged in a tug-of-war with pesky weeds. Intent on his work, he grunted with the effort. Thankful he hadn't yet spied her, she stepped off the walkway, frowning as her new ballet flats sank into the earth.
When she glimpsed his profile, Shelby's breath hitched. The strong resemblance to the man in the faded photograph she'd found among her father's possessions was undeniable, the only difference being the added refinement of a quarter century. His dark hair was peppered with silver and cut military short and his faded jeans were tucked into combat boots. The rolled sleeves of his denim work shirt revealed arms tanned a deep brown—an anomaly among the perennially fair-skinned Scottish natives.
He straightened to his full height and released a shallow groan. Sliding his hands down to his hips, he raised his face to the warmth of the emerging sun. As though sensing her scrutiny, he turned, his features a study in curiosity as he spied her.
"Please stay on the walkway, lass." After tugging a soiled work glove from one hand, he pointed to the path. His slight brogue—husky as if thick with the ever-present mist—was tinged with an unmistakable Kentucky accent, an unexpected solace so far from home. He took a few slow steps toward her, favoring his right leg. As he approached, Shelby caught a glimpse of deep-set, piercing blue eyes that held a guarded wariness.
Not wanting to irritate him further, she stepped back on the walkway. "I'm sorry to interrupt your work, sir, but I'm looking for Robert Nichols from Lexington, Kentucky."
"You've found him." Standing a few feet away, he tilted his head and narrowed his eyes.
Shelby smiled, hoping to put them both more at ease. "I'm Shelby Harmon, Katie and Tom Harmon's daughter."
No immediate response was forthcoming although something akin to recognition flickered in his gaze.
"My Aunt Lily told me you worked at Harmony Lane with my mom when you were teenagers. I believe you knew her as Katie McCormick?" Her professional instincts taking over, Shelby extended her hand.
Robert's stoic expression relaxed and, for a fleeting moment, reminded Shelby of her father. Gruff around the edges but softening at the mention of her mother. "Aye, I should have known. You have your mama's same honey blonde hair and bonnie blue eyes." He removed his remaining work glove and enfolded her hand in his warm grasp. A quick glance revealed the hands of a working man with small, rough calluses. His nails were clean and neatly trimmed, and he wore no wedding band.
"It's been a long time since I've planted my feet on Kentucky bluegrass," Robert said. "Left a big part of myself there. Kind of hard to shake it out of a man, not that I'd ever want to." His lips curled as he released her hand. "Tommy was sweet on your mama from the time we were old enough to saddle up and ride." He smoothed a hand over his short hair and glanced into the distance before returning his gaze to hers. "Seems fitting she ended up marrying the boss's son and living at Harmony Lane. The way I see it, Katie belonged there all along. Born to the manor."
Shelby had expected to hear more about her father, not her mother. What was Robert's connection to her parents, enough to bring her across the world on a personal mission? For a half second, she considered pulling the envelope from her purse and handing it over. The promise to her father would be fulfilled, and she could return home to Chicago and her usual routine. No strings attached. End of story. "Mr. Nichols, I have something I need to—"
"Pops?"
They both turned. A tall, lean man with tousled blond waves rounded the corner. He was rugged with high cheekbones, healthy sun-kissed skin, a square, chiseled jaw with a shadow of stubble, and a well-formed mouth—the latter not something she normally noticed. She estimated him to be in his late twenties to early thirties. With a black T-shirt stretched across broad shoulders, faded jeans and scuffed leather boots, he appeared an incongruous cross between a muscled surfer and an urban cowboy. Most definitely, this was a man she'd never expect to see standing in a garden outside a castle.
PURCHASE LINKS:
ISBN: 978-1-61116-395-7
Page Count: 170
Release date: 26 September 2014

JoAnn is the author of The Lewis Legacy Series and Catching Serenity. Her novellas from Pelican Book Group/White Rose Publishing include Echoes of Edinburgh and three Christmas novellas: Meet Me Under the Mistletoe, Starlight, Star Bright and Sleigh Ride Together with You. A member of the American Christian Fiction Writers and the Louisville Christian Writers, JoAnn lives her husband and three children in her native southern Indiana. She loves to hear from her readers via her website at www.joanndurgin.com or on her author page on Facebook at  www.facebook.com/authorjoanndurgin.