Bogota Blessings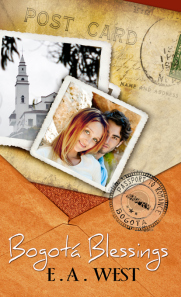 Can love overcome the obstacle of distance and the heartbreak of working with "the disposables"?
When Kayla Shaw travels to Bogotá to help renovate a house for a mission to street children, nothing can prepare her for the ever-present mission employee Mateo Luis. He looks like he could be one of the rebels who have caused so much fear throughout Colombia. Then she begins to see him with her heart instead of only her eyes.
Mateo Luis Gómez Días has dedicated his life to the mission, and he's determined to help as many street children as he can. Unfortunately, he can't keep his thoughts off the beautiful American helping renovate the new children's home. Although he would love to have a relationship with Kayla, his past and the bad neighborhood God has called him to serve in prevent him from pursuing her.
Has God truly led Kayla and Mateo to each other, or does He have something else in mind for their lives?
EXCERPT:
Kayla's gaze drifted to the door as an older woman hurried in with a piece of cardboard in her hand. The woman looked over and held up the sign with a questioning look—Shaw Restoration.
Relief washed over Kayla as she returned the woman's smile and nodded. "Our ride's here."
She led the way over to the woman. "Hi, I'm Kayla Shaw, and this is Angie Martin and Paul Reed. We're the group from Shaw Restoration."
"I am Maria Santiago Uribe de Ramírez, wife of Pastor Carlos Ramírez Ochoa. Please forgive me for being late," the woman said in heavily accented English. "The bus did not want to start, and Mateo Luis had to fix it before we could come."
"I understand," Kayla assured her.
"My husband sends his apologies for not being here, but he was called away by an emergency." Maria lifted a hand toward the exit. "Come. Mateo is waiting to take us to the mission."
As soon as Kayla saw the rusty, ancient bus with the mission name scrawled in faded blue paint across the side, she completely understood why Maria had been late. The vehicle looked as if it would take a miracle to get it to run, and Kayla made a mental note to contact the missions committee of the church she attended with her father. Perhaps they could raise enough to fix up the bus or possibly buy a newer one. The mission needed reliable transportation, and their current bus appeared to be far from it.
A swarthy-skinned man stepped out of the open door of the vehicle, and Kayla's heart leapt into her throat. His dark, brooding eyes scanned the group, his stance wary as he took them in. A scar down the left side of his face made him look even more menacing than the heavy, dark stubble shadowing his face.
Maria stepped up beside him with a warm smile. "This is Mateo Luis. He works for the mission, so you will likely see him often. Mateo, this is Kayla, Angie, and Paul."
Kayla struggled to find her voice, certain it was her responsibility as team leader to respond. "It's a pleasure to meet you."
He nodded, his gaze drifting over her. "If you will move to the back of the bus, we can load your luggage."
As they followed him, Kayla noticed a slight limp in his walk. She felt a small twinge of guilt for judging him by his appearance alone. Since he worked for the mission, he was probably a very nice guy, even if he did look as scary as the rebels she'd seen in news reports. Perhaps his limp had been caused by the violence that had gripped Colombia for several decades. That could explain his wariness and the scar on his face as well.
Still, a little wariness of her own until she knew him better wouldn't be amiss.
PURCHASE LINKS:
Pelican Book Group | Amazon | Barns and Noble | Christian Book.com | iTunes | Kobo
ISBN: 978-1-61116-306-3
Page Count: 133
Released: 7 February 2014

E.A. West, award-winning author of sweet and inspirational romance, is a lifelong lover of books and storytelling. In high school, she picked up her pen in a creative writing class and hasn't laid it down yet. When she isn't writing, she enjoys reading, knitting, and crocheting. She lives in Indiana with her family and a small zoo of pets. For more information, visit her website: http://eawest.mcphitty.com