Almoosed Heaven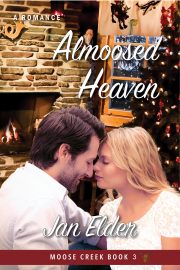 It's Christmastime in Moose Creek, Maine, and Rev. Samantha Evans and forest ranger Eric Palmer are finally getting hitched. When circumstances turn against them in the shape of a meddlesome sister, an ill family member, an old flame, and a contrary moose, will they discover that marriage is Almoosed Heaven?
Snowflakes & Snuggles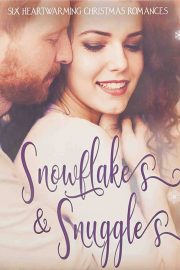 Six brand-new, heartwarming novels and novellas.
ALMOOSED HEAVEN—JAN ELDER
It's Christmastime in Moose Creek, Maine, and Rev. Samantha Evans and forest ranger Eric Palmer are finally getting hitched. When circumstances turn against them in the shape of a meddlesome sister, an ill family member, an old flame, and a contrary moose, will they discover that marriage is Almoosed Heaven?
QUINN'S CHOICE—CLARE REVELL
Trauma surgeon, Quinn Southgate, is about to marry his soul mate when his pager goes off. His bride, Liz Hastings, gives him an ultimatum—answer that bleep and the wedding is off. Whatever choice Quinn makes, the consequences will last a lifetime.
WINTER WISHES & SNOWFLAKE KISSES—MARY MANNERS
When the wedding of mutual friends draws a reluctant Delaney Chambers home to King's Gap, Tennessee, rancher Austen Brantley believes their reunion is a Christmas miracle. Tragic childhood memories make Delaney eager for a quick return to her city life. But Austen has other plans…to chase away those memories and bring Delaney home—for good.
CINNAMON KISSES—CECELIA DOWDY
When Jamal Jennings runs into his first love, Kelly Richardson, during a homeless ministry, their dormant feelings are rekindled. He needs her help to open his bakery and she's struggling to forgive her cheating ex-fiancé. Can they fall in love again, in spite of their past pains?
MIDNIGHT CLEAR—AUTUMN MACARTHUR
He could be her Mr. Right. Only she knows she's his Ms. Wrong.
Teacher Claire Robinson moved to Huckleberry Lake to escape the grief of losing her happily-ever-after, and no one in the welcoming Idaho community guesses her secret heartbreak.
Including Ryan Connor, who seems to think she's "the One". But he wants a big family, something she can't give him. Her snark should make him forget her.
Problem is, both God and Ryan have other plans!
A TIME TO LOVE—MARION UECKERMANN
Everyday life for Dr. Melanie Kerr had consisted of happy deliveries and bundles of joy…until her worst nightmare became reality.
Journalist and TV host Jordan Stanson has gone from one assignment to the next, but before he can take a break for Christmas, his boss has squeezed in another—uncovering the tragedy surrounding the doctor the country came to love on his show.
Picnics & Promises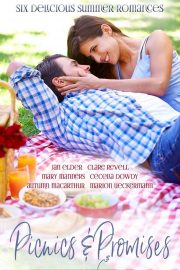 Six New Novellas
MOOSED OPPORTUNITIES—JAN ELDER
Rev. Samantha Evans loves Moose Creek, Maine, the land of moose and men, particularly her fiancé Eric Palmer. Forest ranger, Eric, strives to plan their wedding, but Samantha's busy schedule, his interfering ex-wife, missing college students, and a pregnant moose, all conspire against him. Will their lives continue to be a series of Moosed Opportunities?
Moostletoe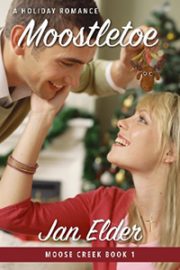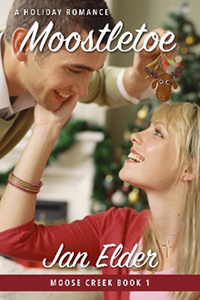 Available Now
~ He could wrestle a galloping moose to the ground, but could he capture her fleeing heart?
Fresh out of divinity school, Rev. Samantha Evans is ready to conquer the world for Christ. She lands in Moose Creek, Maine, a tiny backwater town with more moose per square mile than men. Even worse, one of her new parishioners chews up new
ministers for breakfast and he's just as determined to send her packing.
Forest ranger, Eric Palmer, is done with women. Determined to live simply with no encumbrances, he's moved to Northern Maine to study the moose population. With Christmas right around the corner, he runs into his buddy Sammie, the girl who'd been his best friend when they were teenagers. Unlike most of the women in his life, he trusts her implicitly. But could she ever be more than a friend?
When Samantha's career is on the line, can Eric save her job and rescue his own shattered heart in the process? And how does Matilda the town moose factor in?
Frosting and Flurries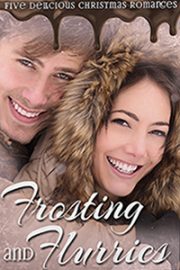 Five delicious Christmas novellas.
MOOSTLETOE —JAN ELDER
Rev. Samantha Evans lands in Moose Creek, Maine, where parishioners chew up new ministers for breakfast. Happily, she also reunites with forest ranger Eric Palmer, her best friend from her teenage years. With Samantha's career on the line, Eric must save her job and rescue his own shattered heart in the process. But how does Matilda the moose factor into the mix?
THE HECTOR CLAUSE—CLARE REVELL
The last thing Brie Dalgleish expected her boss to do was ask her to play an elf in the toy store grotto. She's even less enthusiastic when she discovers Santa is the same bloke who drove his car through a puddle the previous evening, completely soaking her.
Hector Clause is playing Santa in the family owned toy store under sufferance as a favor to his grandfather. He'd rather be in a nice safe office, using his law degree, than playing Santa in a shop full of squealing kids. Even if the chief elf is on the cute side.
With the store's centenary fast approaching, the anniversary party is abruptly cancelled. Hector resolves to celebrate anyway, but isn't prepared for the curveball he finds headed his way.
SUGAR AND SPICE—CECELIA DOWDY
Sheila Parks is stunned when Mason Smith, the identical twin brother of her ex-boyfriend Reese, moves to Blue Spring and opens a bakery. Reese's cruel breakup still bothers her and seeing somebody who looks just like him is a painful reminder of her predicament. Unemployed, Sheila needs financial help and it appears that Mason can assist her with her problem. Can she learn to trust a man who looks just like her ex?
Mason is stunned when Sheila storms into his bakery, mistakenly thinking that he's Reese. Mason is used to comforting his womanizing brother's ex-girlfriends. A stutterer, Mason has always had a hard time socializing with others. However, he finds himself smitten with beautiful Sheila. Can he control his stutter so that he can ask Sheila to be his date to his grandmother's Christmas birthday party?
Both Sheila and Mason deal with past pains as they work together during the Christmas season.
CALM & BRIGHT—AUTUMN MACARTHUR
Maddie Calder Hughes is determined—her charming but unreliable ex-husband won't get the chance to disappoint their son with broken promises this Christmas. Caring for her grandmother in the remote community of Sunset Point, Huckleberry Lake, Idaho is the life she wants. Not following Brad from city to city while he chases promotion. She and their son saw so little of him while they were married, they may as well have been divorced.
Brad Hughes is equally determined—he'll do whatever it takes to convince his ex-wife Maddie he's not the driven, unreliable charmer she married. Even working in her grandmother's quirky store. He's a changed man, and he wants more than anything for them to be a family again.
Can their broken marriage and broken hearts heal before his career tears them apart a second time?
A story of faith, community, second chances, and the greatest gift of all — the gift of a second chance with God.
GINGER & BRAD'S HOUSE—MARION UECKERMANN
When Brad O'Sullivan is unfaithful to Ginger Murphy, she escapes to Australia for five long years. During this time, Brad's shotgun marriage fails. Besides his little boy, Jamie, one other thing in his life has turned out sweet and successful—his pastry business.
Ginger returns to Ireland, when her mother's diagnosed with heart failure. She loves being a wedding flautist but fears bumping into the wedding cake chef she tries to avoid.
A gingerbread house contest fundraiser at church has them competing, both determined to win—Ginger the contest, Brad her heart. But a dear old saint challenges Ginger, and she has to decide whether to embrace the true meaning of Christmas—peace on earth, good will to all men. Even the Irishman she'd love to hate.
Love, Lies, & Fireflies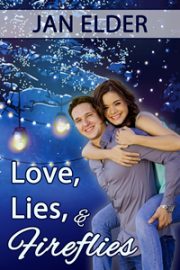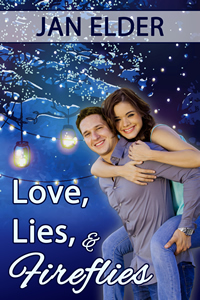 ~ A wounded heart, a broken spirit, and two second chances ~

Didi O'Brien is engaged—at least she was an hour ago. Now she's not so sure. Her fiancé, the suave Kevin Cabot, has just revealed that he's been unfaithful, and he's not the least bit sorry. Reeling from the betrayal, with her plans for a happily-ever-after life in doubt, she prays for direction. 
Middle school teacher, Jake Montgomery, is struggling with some issues of his own. Sadly, a year previously his fiancée had been killed in a car crash. Battling anger and despair, in a mountain-top experience, Jake wrestles with the Almighty, and is ready to live again. 
Through a crisis of faith, and glimpses of mercy, Didi and Jake find each other. But can they find the strength to resolve the many obstacles that conspire to keep them apart?
Buy Kindle Version – https://www.amazon.com/dp/B01LEAOOGU/
Buy Paperback Version – https://www.amazon.com/dp/1537410849/
ISBN#: 1-943104-61-1
ISBN-13#: 978-1-943104-61-1
A Semi-Sweet Summer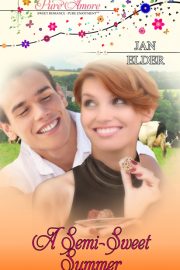 Available Now – Click here to buy now
Cassidy Cooper never wanted to set foot in Crystal Falls again. Ten years ago, she gave her heart to a boy who, in turn, humiliated her deeply. Now, back in town as the sole beneficiary of her sister's estate, she's determined to make her sister's dream of an upscale chocolate truffle shop, come true.
Hunter Gray is intrigued by his new neighbor. His escape artist cow, Marigold, engineers an introduction…but it's not quite the first impression he's hoping for. Baffled by the nagging suspicion he's seen this woman before, he plots to win Cassidy's heart at every opportunity.
With the object of her unrequited love living within shouting distance, Cassidy prays for strength to forgive and forget. And Hunter? He just wants to get back to his own dream to grow his farm and get to know the pretty girl next door. If she'll let him.
A Semi-Precious Christmas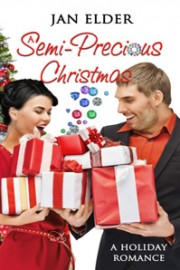 Her name might mean semi-precious, but to him, she was the pearl of great price.
– A Semi-Precious Christmas
On a bright, crisp December morning, jewelry store manager, Peridot Keaton-Jones, arrives at work expecting to find her beloved uncle, Marty. Instead, she's greeted by the muzzle of a gun pressed to her temple. When thugs assault her, threaten her life, and steal thousands of dollars worth of jewelry, Peri can only pray her uncle is late for the first time in his life.
Christopher Lane is a TV news cameraman in the right place at the right time. He witnesses the heist, calls the police, and offers help when Peri needs it most. She can't deny her attraction, but is he really her hero, or is he just after a story? And with Christmas right around the corner, can Peri and Chris avert a holiday disaster?
ISBN-13#: 978-1-61116-550-0
Manila Marriage App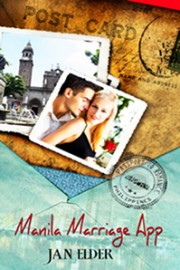 On a whim, Shay Callahan responds to Timothy Flynn's advertisement for a wife and embarks on a Philippine adventure that will challenge everything she believes
On 4/17/15, Pelican Book Group/White Rose will be publishing my first novella, Manila Marriage App, one of many in their successful Passport to Romance series. To check out books that are available go to www.PelicanBookGroup.com, Christianbook.com, Barnes & Noble, iTunes, and Kobo. In addition to the Passport series, there are scads of other inspirational books published by PBG.
ISBN-13#: 978-1-61116-441-1
Available 04/17/2015

Fun, feisty, and flirty, Manila Marriage App is a delightful romance that's sure to keep the pages turning.
-Elizabeth Maddrey
Author of the Grant Us Grace Series
Elizabethmaddrey.com
I was drawn into the fast-paced story by its mixture of comedy, awkward moments, pathos, tragedy, physical threats, and crisis—knit together by a light comedic touch and skillful internal and external dialogue. Couldn't put it down. I'm still smiling as scenes pop back into memory.
-Richard E. J. Burke
Author of the Raising Up Pharaoh Series
RaisingUpPharaoh.com
"Wow, what fun!!! Jan Elder knows how to paint characters who entice you to read more right from page one. I loved it."
-Connie Almony
Author of At The Edge Of A Dark Forest
InfiniteCharacters.com